Kurse / Courses 2018 > MUFO Specials 2018
Improvisation mit Limpe Fuchs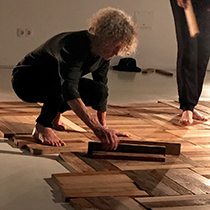 Anmeldung noch möglich!
Termin:
So, 08.07.2018 bis Di, 10.07.2018
Ort: Kellertheater

Workshop von Limpe Fuchs, Schwerpunkt Pianisten
Anmeldungen anderer Instrumentalisten/SängerInnen: nach Absprache willkommen!
8. – 10. Juli 2018 Musikforum Viktring
Maximal 5 Teilnehmer pro Unterrichtseinheit. Dialog an zwei Instrumenten, zuerst mit Limpe Fuchs, dann auch Teilnehmer(innen) untereinander. Spielen in Balance zwischen Chaos und Ordnung, Zuhören ist genauso wichtig.

Fokus auf die Gleichrangigkeit der Klaviertöne und Unabhängigkeit der Hände. "Jeder Ton ein Klangereignis", bedeutet Achtsamkeit und offen sein für Intuition. Ich würde auch gerne den Ausdruck "intuitive Musik" benutzen, um den klassischen Improvisationsbegriff z.B. über ein musikalisches Thema (Lied), oder einen Begriff (z.B. "Die Natur" etc.) auszuschließen. Es geht um das noch nicht Gehörte im Jetzt. Ich sehe aber auch die Möglichkeit, durch Einschränkung des Tonmaterials (z.B. nur die weißen Tasten) zu zu fokussieren, und durch diese Begrenzung des Hörens größeres Augenmerk auf Parameter wie Rhythmus, Klang, Lautstärke... zu legen.
Kursgebühr: 40,- Euro

Workshop with Limpe Fuchs, mostly for pianists
July 8. - 10. , Musikforum Viktring
Maximum of 5 participants to each unit. Dialogue on two instruments, first with Limpe, then possibly between participants. The music has to be in balance between chaos and order. Listening has to have the same quality as playing.
Focus on the equality of the keys and independence of hands. I prefer to use the term "intuitive music", in order to avoid the classical idea of "improvisation", such as on a given tune, or on ideas/concepts. I would state: "Every tone, every chord is an event just now, not to be repeated". To simplify and focus on listening I also suggest to limit the material used (for instance, white keys only), thereby strenghtening awareness on other elements: rhythm, sound, dynamics...
Course fee: 40,- euro
Limpe Fuchs ist bekannt als Klangkünstlerin und Komponistin akustischer und visueller Ereignisse. 1941 geboren, studierte sie in den frühen 60er Jahren zunächst Klavier, Violine und Schlagwerk. Unter dem Namen "Anima Sound" betrieb sie zwanzig Jahre lang Klangforschung zusammen mit ihrem damaligen Lebenspartner, dem Bildhauer Paul Fuchs. Diese Kollaboration, auch als Anima Musica bekannt, verkörperte den Geist der innovativen, am Rande operierenden Freak Szene der 60er und 70er Jahre und wird oft zitiert als eine der größten Wegbereiter des Krautrock. Kärnten, das Musikforum Ossiach und Viktring war Stätte der Begegnung mit Friedrich Gulda.
Seit 1989 ist sie als Solistin mit ihrer Klanginstallation unterwegs und als Perkussionistin im Occhio und OOP Quartett.
Helmut Rohm von B4 anläßlich der CD Präsentation "Pianobody", eine eher seltene Veröffentlichung ihrer Pianoarbeit:
"Seit Jahrzehnten gehört Limpe Fuchs zu den phantasievollsten Klangkünstlerinnen der internationalen experimentellen Musikszene. Die professionelle Perkussionistin verfügt über eine selten wache Sensibilität für prozessuale und überraschende Interaktionen und spontane Klanggeräuschentfaltungen"
Neue Projekte:
Mai 17 Brighton, London, Manchester, Leeds mit Evan Parker, Saxophon, 3. – 30 September 17 Einzelausstellung mit Konzert Limpe Fuchs Städtische Galerie Traunstein, 1.- 9. Oktober 17 Residency and Concert in Prismatic Park, New York
8. Dezember 17 Dortmund Release Konzert der neuen LP String Stone Weight durch ANA OTT
Kommentar des Komponisten Helmut Lachenmann bei der Tagung in der evangelischen Akademie Tutzing 2001 "Klänge und Geräusche in der neuen Musik": "Ich bin auf der Suche nach dem Klang, die Limpe Fuchs hat ihn schon gefunden"
Siehe auch www.limpefuchs.de
Limpe Fuchs, *1941 studied classical piano and violin in Munich and percussion with Hans Holzl, citing avant-garde composers such as Murray Schaefer and John Cage as her early musical influences. She prefers to call herself a percussionist in the tradition of sound-scape artists yet it is also clear that the visual aspect of her work has always been given the same attention as the acoustic. Over her forty-year career she has continued experimenting with "no formalism" improvisational sound and visual performance using handmade instruments and sound sculptures. Her engaging performances are meant to be carefully listened to, requiring attention from the audience as she moves freely in space evoking her natural sound-scapes while playing her viola woodhorn, pendulumstring, a four-meter-steel constructed lithophone, sheet metal, pieces of wood and singing in her unique ephemeral bird-like style.
Limpe Fuchs has been accredited as a seminal influence on the "Krautrock" scene of the late '60s and '70s and later became an inspiration for the experimental psychedelic underground of the late '70s and early '80s and for generations after. Limpe started her career with Anima Musica along with her then partner, the sculptor Paul Fuchs, and in 1971 they recorded their first album called Stuermischer Himmel. The next release was an unofficial release of the three-day Ossiach Festival recorded live including performances by Weather Report and Tangerine Dream among others. It was here that they met with the organizer, the famed pianist Friedrich Gulda, who soon joined Limpe and Paul to create Anima. Subsequently the albums entitled Anima and Musik Für Alle were both released in 1972. From 1969 till 1989 the duo continued performing, recording, touring (most notoriously on a tractor travelling at 30km/h which pulled the stage) often adding new members including their son, Zoro. She then started on her solo career and continues to perform live, also collaborating with many musicians, also venturing into theater performance. Most recent collaborators include Flamingo Creatures, the organ player Matthias Ank, Christoph Reiserer, Julia Schölzel, Christoph Heemann, Timo van Luijk.